Toms River Graduate Receives 2017 Volunteer of the Year from Biddeford Maine Mayor
Reba Shapiro, Toms River, recently received the 2017 Volunteer of the Year award from Biddeford Maine Mayor Alan Casavant and his council. Shapiro, who graduated this June with a B.S. in Health, Wellness and Occupational Studies from the University of New England (UNE), Biddeford, Maine, received the award because her work in the community was instrumental in helping hundreds of local youth.
Shapiro, a 2013 graduate of Toms River North High School, was an active UNE mentor for four years with the College Community Mentoring Program (CCMP), which provided up to 50 mentors for four local schools that served about 110 local youth in one-on-one and class mentoring. She was president of the CCMP three years; and as president, she initiated the annual Mentoring Field Day during which UNE student mentors and their mentees are invited to campus for a day of fun games and activities together.
Shapiro was also instrumental in bringing together the UNE mentors to work on projects, such as making fleece blankets for their mentees at holiday time, creating handmade cards for mentors to give to their mentees at the end of the school year, and organizing bake sales and other fundraising projects to support the mentoring program. In 2017, she became Program Coordinator and was in charge of all aspects of operation of the UNE program.
Shapiro was an active mentor in the Diversion to Assets Program for first time nonviolent juvenile offenders. In addition, she is and has been involved in the UNE College Aspirations Program that brings middle school youth to the UNE campus for tours and programs.
Mayor Casavant said to Shapiro, "It is so important to have students from UNE in our community, as we want to be your home away from home.  Having you and your classmates share your talents and skills with children and adults in the city builds bridges and improves the quality of life for those who live here.  Your efforts and talents did not go unnoticed, so thank you for all that you have done."
Shapiro said, "Thank you again for the opportunity and recognition of the 2017 Volunteer of the Year award. I love every minute of what I do for the community, especially all of the amazing children I have had the opportunity of meeting and assisting. I was truly honored that you and others thought highly enough of my efforts to provide me with the award."
Shapiro, who was on the Dean's List every semester she attended the University of New England (UNE), Biddeford, Maine, had a double minor in psychology and medical biology. She was a member of Alpha Chi and Psi Chi honor societies, and graduated Magna Cum Laude, missing Summa Cum Laude by only 0.01 percent. Besides her work in the College Mentoring Program, Shapiro was a peer tutor on campus. In the future, Reba plans to attend graduate school to become a physician's assistant.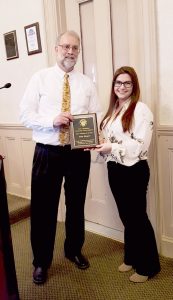 ---